Description
MEET THE S2 GT SE 2020
Your favourite commuter electric scooter now comes with a Bluetooth® wireless technology. The GT SE is compatible with a smart app which will enhance your riding experience, while also keeping you up to date with the latest news in the world of electric vehicles.
BE A PART OF OUR ELECTRIC COMMUNITY!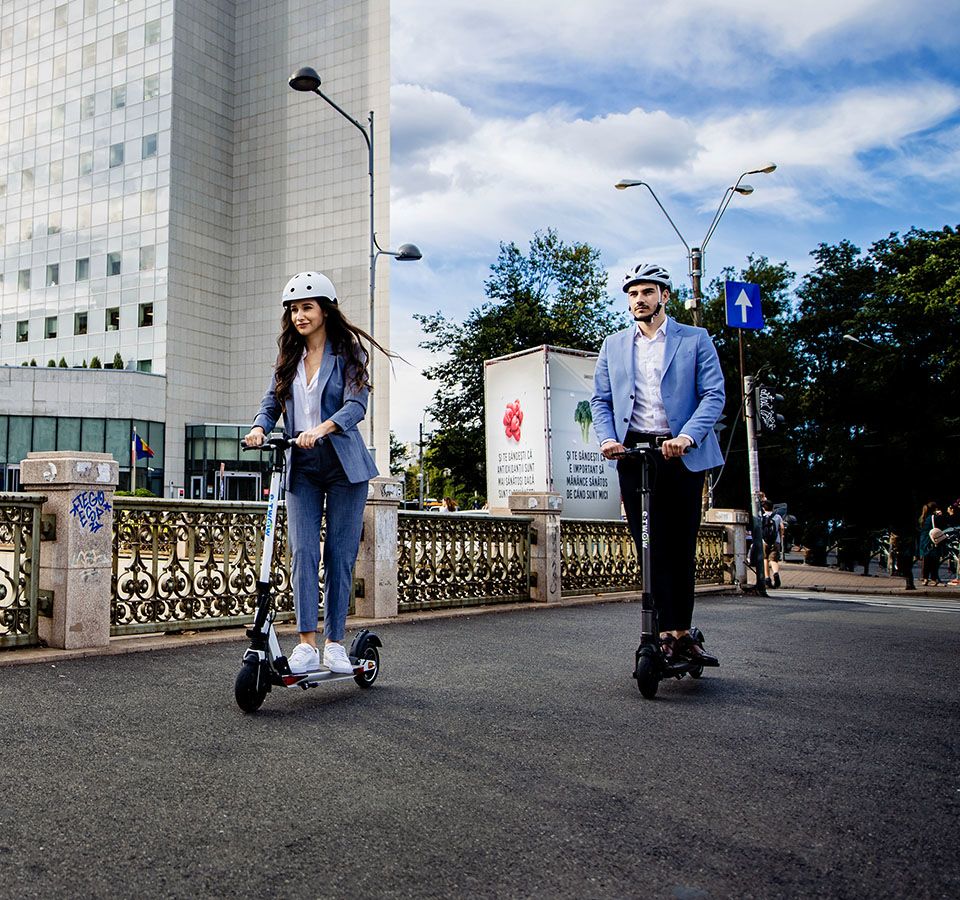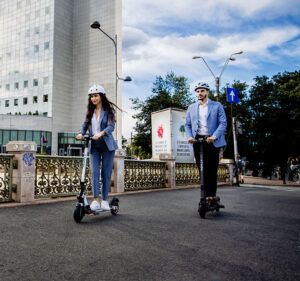 Features

Available colours

White, Black, Gray

Range

up to 40-50 km or 25-31 mph

(speed: 20 kmph or 12 miph, load: 70 kg, wind speed: under 10 kmph or 6 mph)

Max Speed

40 kmph or 25 mph

*The maximum speed is influenced by the load, the road conditions and environmental factors.

Slope climb ability

25 degree slope

Motor output max.

500W nominal power Brushless DC Motor (700W peak power)

Battery

48V 10.5 Ah SAMSUNG Li-ion Battery

Charger

42 V, 3 A

Energy consumption

54.6V / 2A / 3A

Total weight

13.4 kg

Max Load

110 kg
SAFETY FIRST
The goal is to make an indestructible scooter, so the producer has implement several measures to prevent possible damages. The scooter uses an advanced BMS (Battery Management System) which employs double battery overheating protection. As such, you can rest assured knowing that the battery is within safe parameters at all times.
The engine also benefits from thermal protection, reducing power to prevent overheating.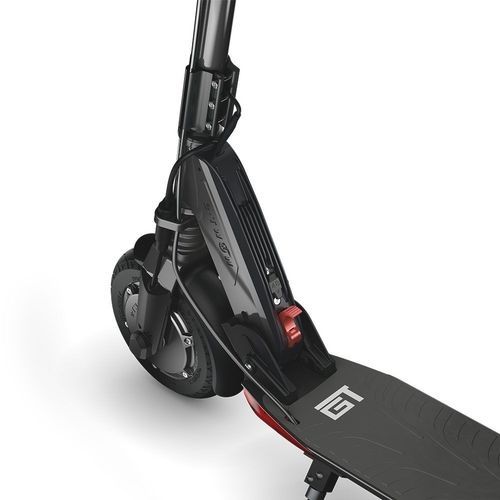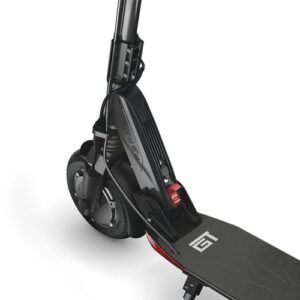 DESIGNED FOR URBAN RIDES
The lightweight and easy to handle GT SE, delivers a top speed of 40 kmph or 25 mph.
It has the highest torque for a scooter of its weight, so you can enjoy more speed, even on uphill roads. It's also equipped with an improved battery that delivers a range suitable for your daily travels.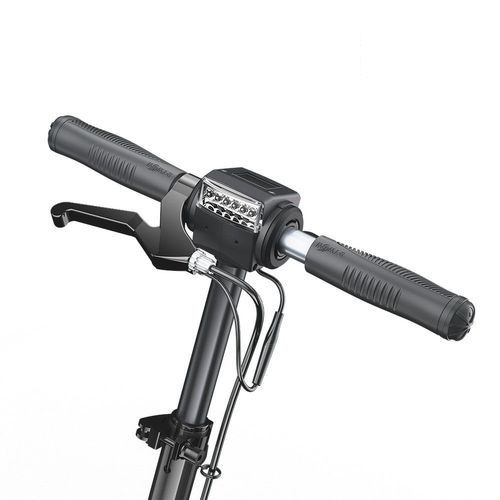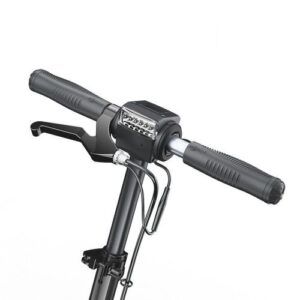 IMPROVED STABILITY
Despite its small size, the GT SE features a long and stable platform with a non-slip grip, that allows you to ride in a safe and comfortable position. The durable grip is made of rubber so it can be cleaned with ease.
Scooter dimensions:
Folded: 1060*324*150 mm; Unfolded: 1132*1075*382 mm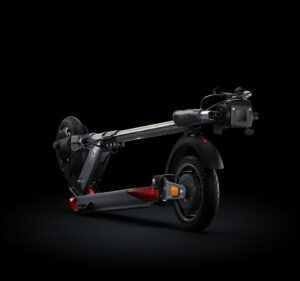 RELIABLE REAR DRUM BRAKE
The GT SE has been equipped with a rear drum brake for extra safety.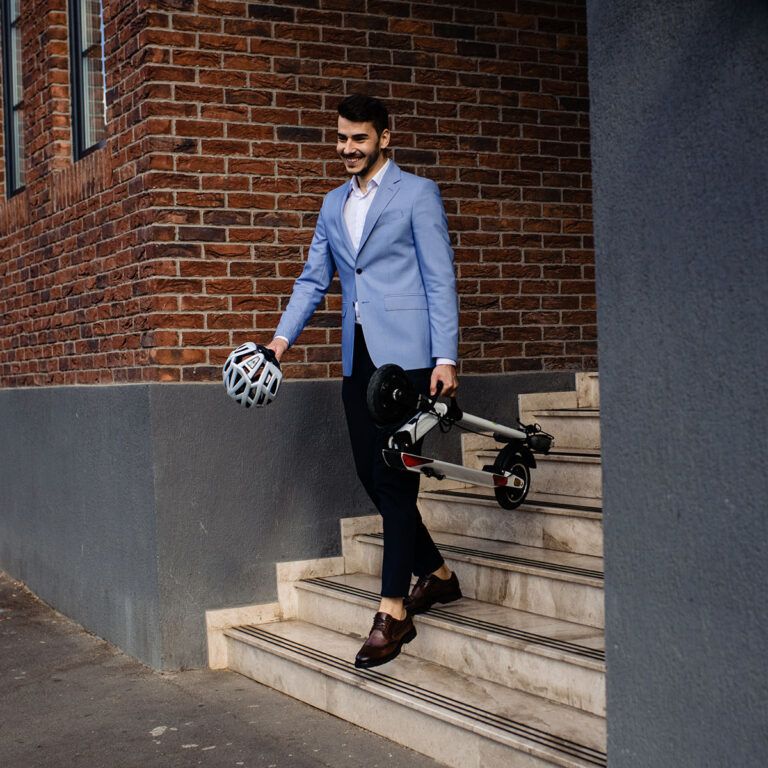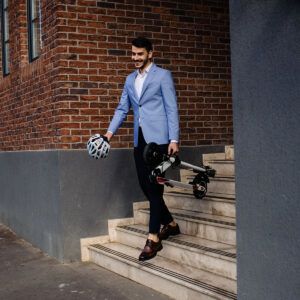 THE MOST PORTABLE SCOOTER
E-TWOW scooters have a 3-point folding system and they weigh less than 12 kg, so they take little space and can easily be carried anywhere.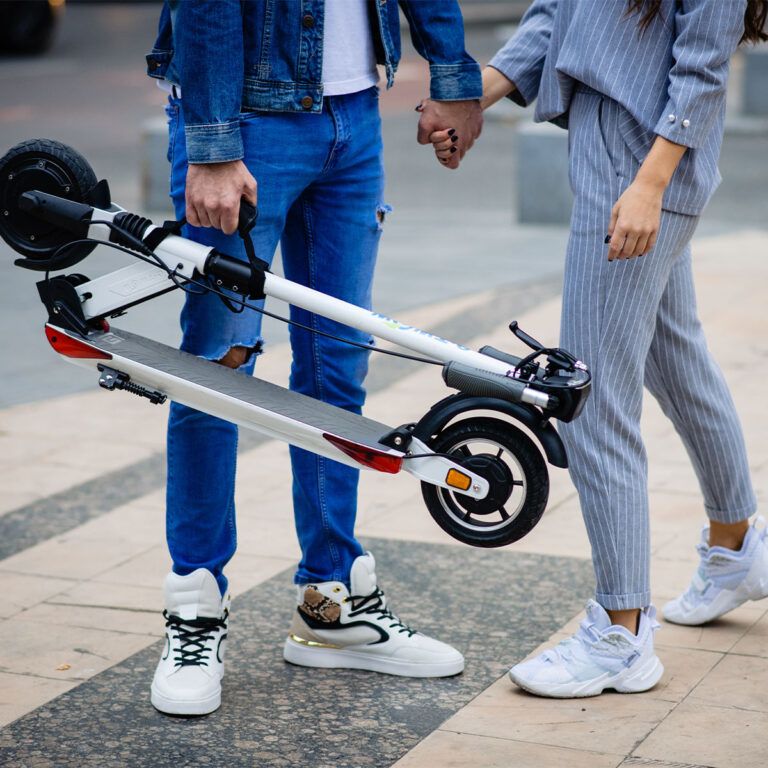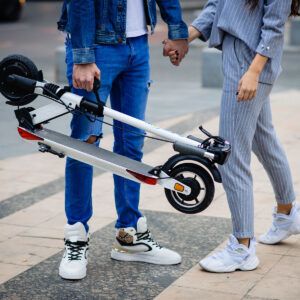 FAST 3 POINT FOLDING SYSTEM
One of the best parts of the E-TWOW scooters is their distinctive folding system. The scooters can be fully folded by simply clicking the folding lever, conveniently located above the scooter platform. Once it is folded, you can easily carry the scooter and store it anywhere you want, under your office desk or in the trunk of your car.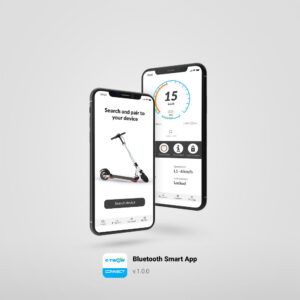 E-TWOW Connect
Stay in touch with your scooter at all times! Get ready to enhance your riding experience with a smart app with Bluetooth wireless technology!
To pair your scooter with your smartphone, you must first make sure that your phone's Bluetooth is activated and that the scooter is turned on and in range.
To do this, search nearby device and connect with your scooter.
Once the connection is made, you will have the possibility to access the following scooter functions:
Set speed limit
Turn the lights on/off
Activate the Zero Start function*
Lock the scooter
More functions to come …
KERS TECHNOLOGY
E-TWOW has implemented the Formula 1 KERS technology on the scooter, so that it could reduce the energy consumption and increase the scooter's autonomy by up to 40% by simply pressing the magnetic brake.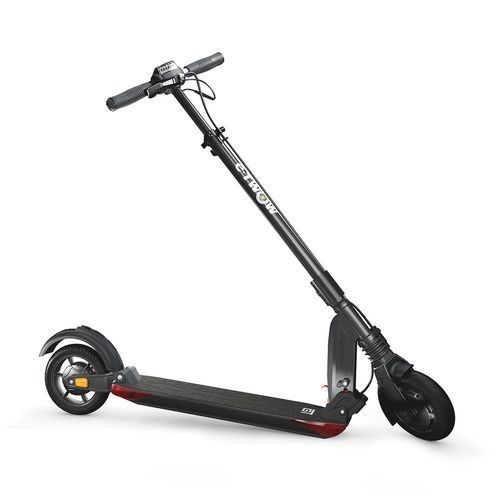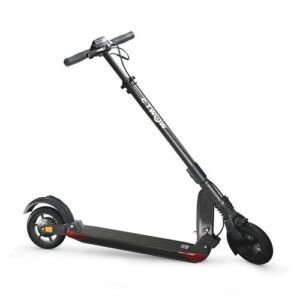 AIRLESS TYRES
Patented polyurethane airless tires, coated with rubber composite and outfitted with improved treads, are enhancing the performance in wet road.
The main advantage of airless tires is that they cannot go flat, resulting in a savings, due to the fact that airless tires will need to be replaced less often. The vehicles outfitted with airless tires are able to carry more weight and engage in more rugged activities.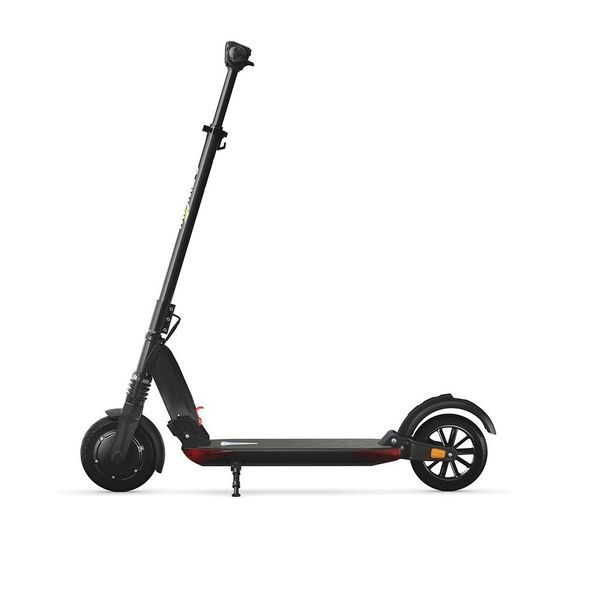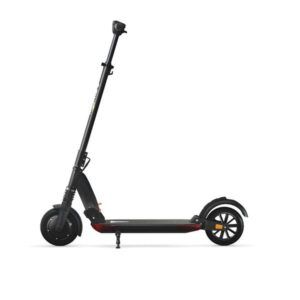 FRONT AND REAR SHOCK ABSORBER
The scooter comes equipped with front and rear shocks, to make riding on the city streets as comfortable as possible. Of course, you can avoid pot holes and rough roads to maximize the lifetime of your scooter, but you have to know that the E-TWOW scooters can handle adverse driving conditions.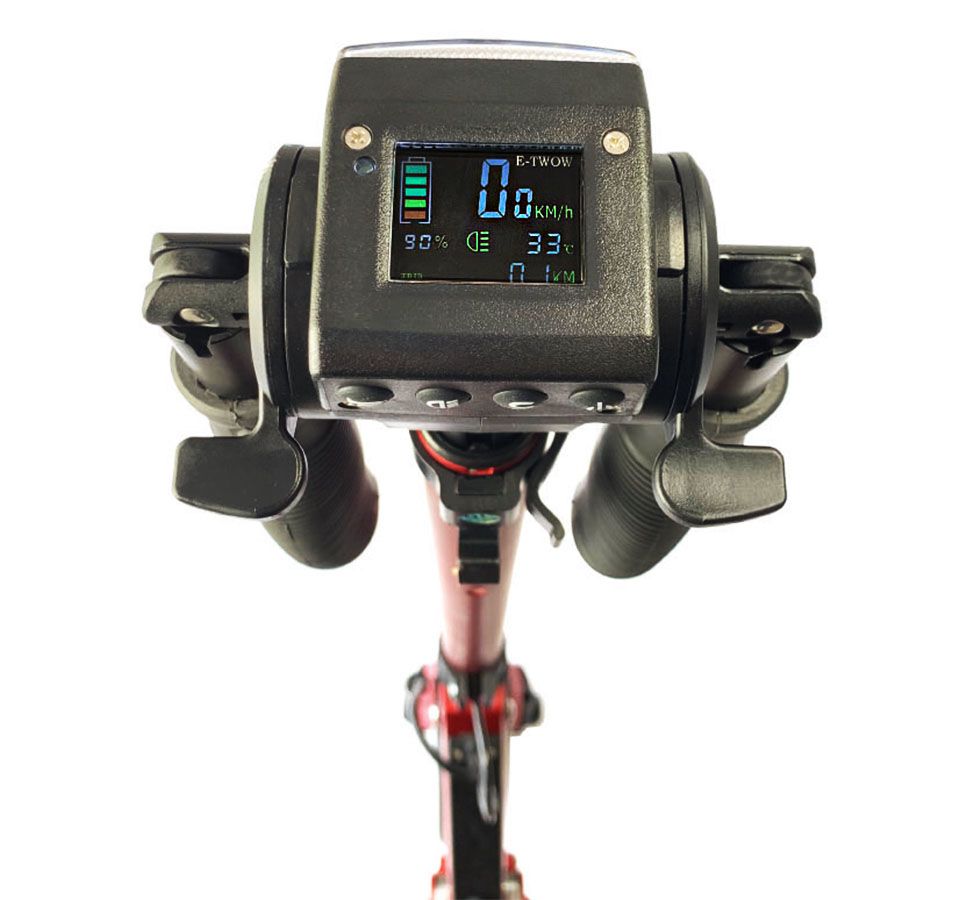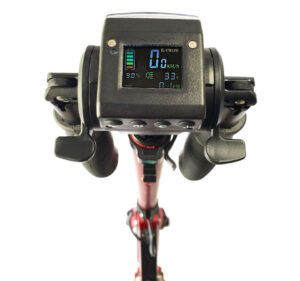 FULL COLOUR DISPLAY
Enjoy our brightened full colour led display which shows all of the scooter's important functions
The scooter comes equipped with an 30 x 26 mm LCD display window that will show you several types of status information, such as: odometer for the lifetime mileage of the scooter, as well as a trip meter and speedometer.
In addition, it lets you know the ambient temperature
BATTERY PERCENTAGE
SPEED
HEADLIGHT ICON
DISPLAYS THE TOTAL OR TRIP DISTANCE
TEMPERATURE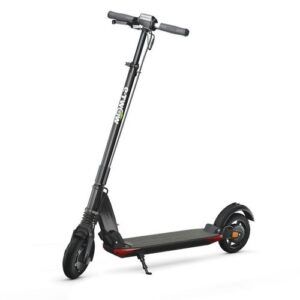 | | |
| --- | --- |
| Motor type | DC Bushless motor |
| Folding function | Fully foldable electric scooter (patented) – Height Adjustable + Handlebar Folding + Automatic Unfolding Body |
| Brake function | Regenerative brake for front wheel + Emergency brake for rear wheel |
| Shock absorber | Front shock absorber + Rear shock absorber |
| Cruise control | Maintains a constant speed without the need to press the acceleration handle |
| Zero start | For safety reasons, you can only accelerate the scooter after giving it a little push first |
| Horn | Piezo ceramic horn (electrical) |
| Display | Colour display |
| UBHI – Electronic display | UNIBLOCK HUMAN INTERFACE (patent) |
| Reflectors | Side mounted reflectors |
| Size | fold size: 1060*330*146mm | expand size: 1130*1167*386mm |
| Wheel size | 8″ |
| Important | It is illegal to ride electric scooters on public roads, pavements, or cycle paths. They are intended only for use on private land with the owner's permission. The scooter is designed for adults over the age of 18. Protective helmet is strongly recommended. |