Description
We recommend you to read these articles, read the Frequently Asked Questions (at the bottom of this product description) before you ride the electric scooter for the first time.
Vsett 9+ Electric Scooter
VSETT 9+ is a more dynamic scooter that will provide you with everything you need to move around the city efficiently.
Technical Specifications of VSETT 9+ E-Scooter
Model
VSETT 9+ Super
VSETT 9+ Pro
Battery
48V/19.2Ah
48V/21Ah
Wheel
8.5 x 3 inches
8.5 x 3 inches
Tyre type
Front and rear pneumatic
Front and rear pneumatic
Brakes
Mechanical disc brakes
Mechanical disc brakes
Max Range
100 Km/ 60 mi
100 Km/ 60 mi
Top Speed
53 kph / 33 mph
53 kph / 33 mph
Slope Climbing
~20 deg
~20 deg
Weight
26 kg / 57 lb
28 kg / 62 lb
Max. Load
120 kg / 265 lb
120 kg / 265 lb
Suspension
Front -Rear

Spring Suspension

Front -Rear

Spring Suspension

Lights
LED head light,

tail light and brake light

LED head light,

tail light and brake light

IP Rating
IP44
IP44
Motor
2 x 650 W (1700 W peak)
2 x 650 W (1700 W peak)
Charger
1 x 2A Charger 10h
1 x 2A Charger 12h
Note
It is illegal to ride e-scooters on non-private property. Even though a helmet is not legally required during rides, it is highly recommended, along with other protective equipment. This scooter is not meant for people under the age of 18.
Forget about barriers and feel complete freedom
The heart of this vehicle are powerful engines with a peak power of up to 2x850W. With their help, you can successfully accelerate up to 50 km / h.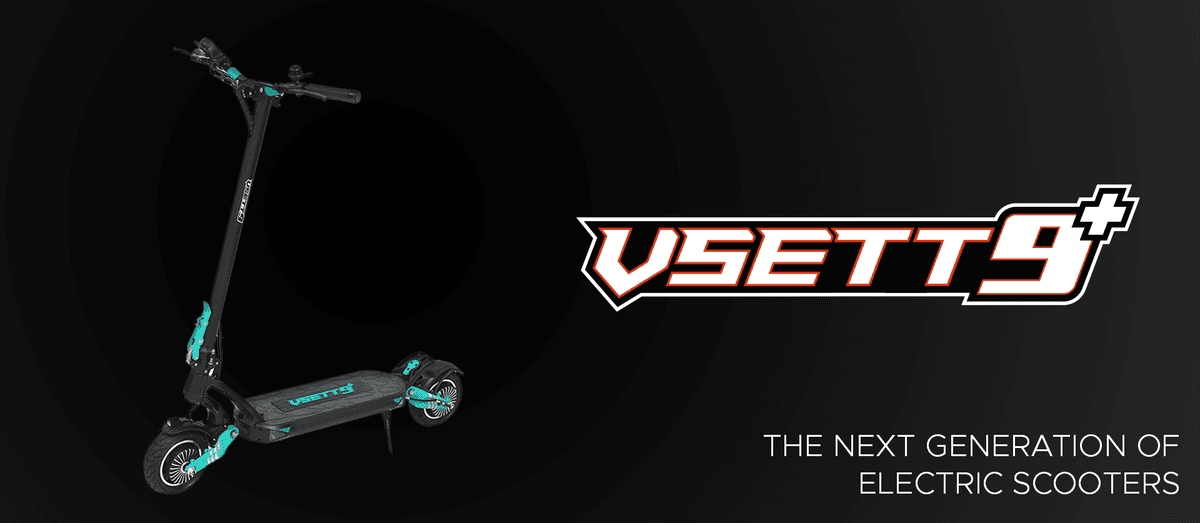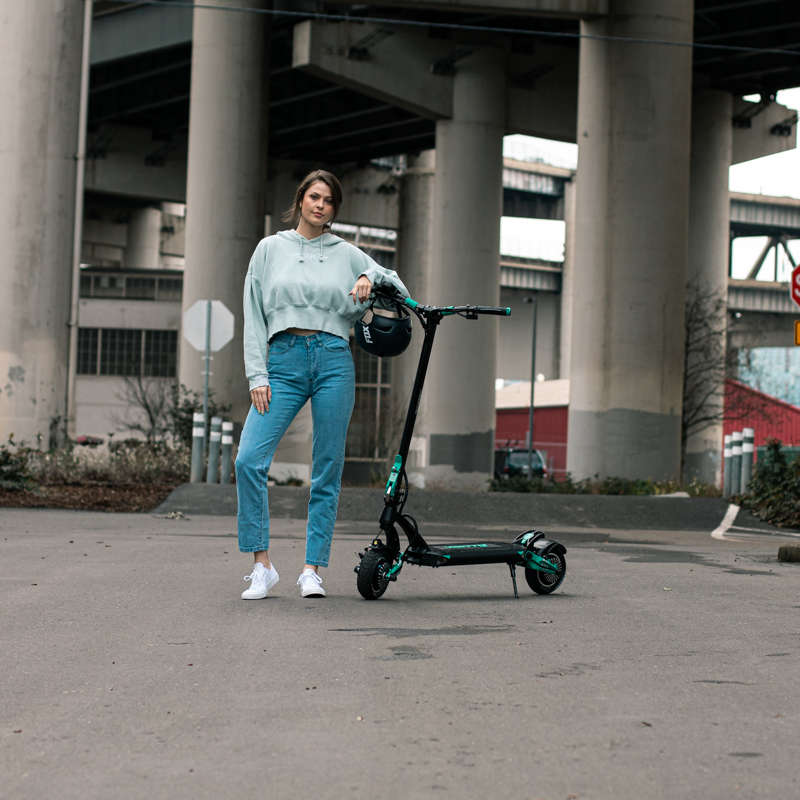 The vehicle has solid shock absorbers and large 8.5-inch wheels. Such a combination will give you the certainty that the scooter will even "stick" to the surface on which you are going to ride.
Take full control of your vehicle
The scooter is equipped with a modern and very readable display that can cope even in unfavorable conditions.
You will find key parameters such as current speed and gear selected, battery level and even total mileage.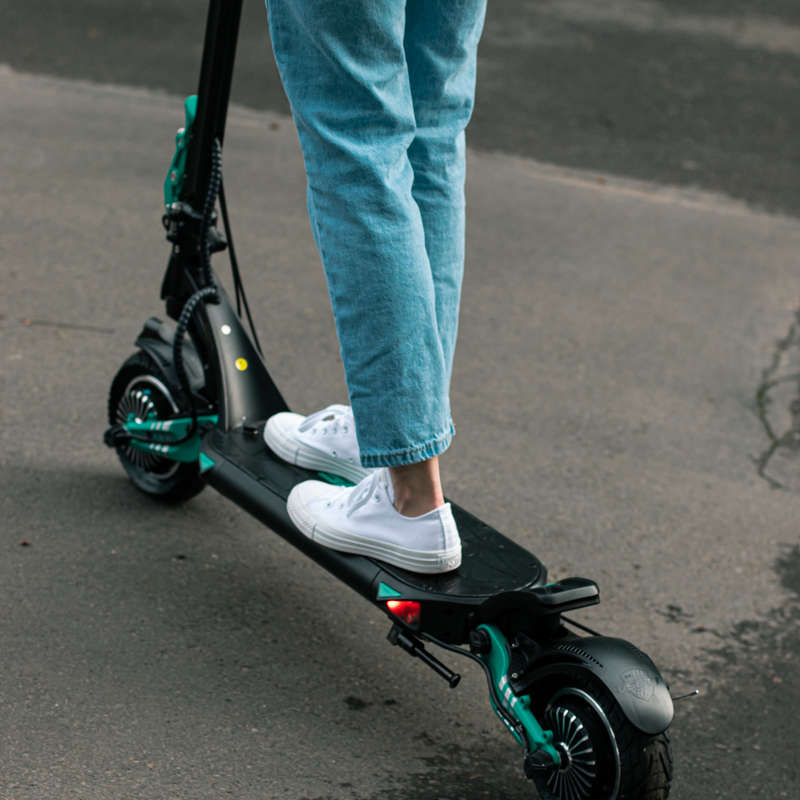 In addition, you will get a whole range of new possibilities, including: maximum speed, acceleration, cruise control, run, start from scratch and many other interesting functions.
Fold with a few simple clicks and place anywhere
The equipment has additionally folded handles, and 2 movements are enough to fold the entire scooter.
The whole weighs only 23 kg, and when folded, it is only 124 cm long. Perfect to put it in the trunk, wardrobe or even under the desk.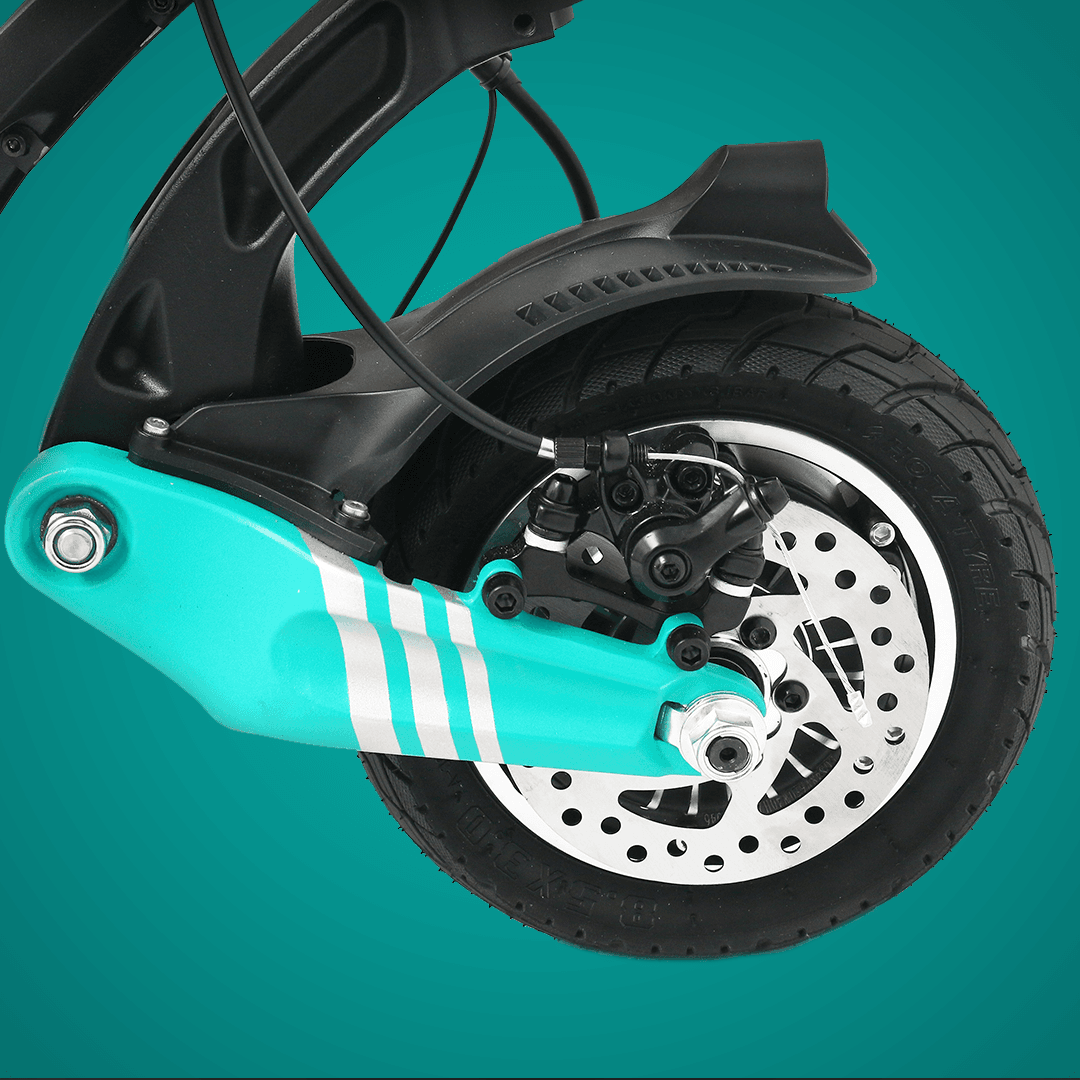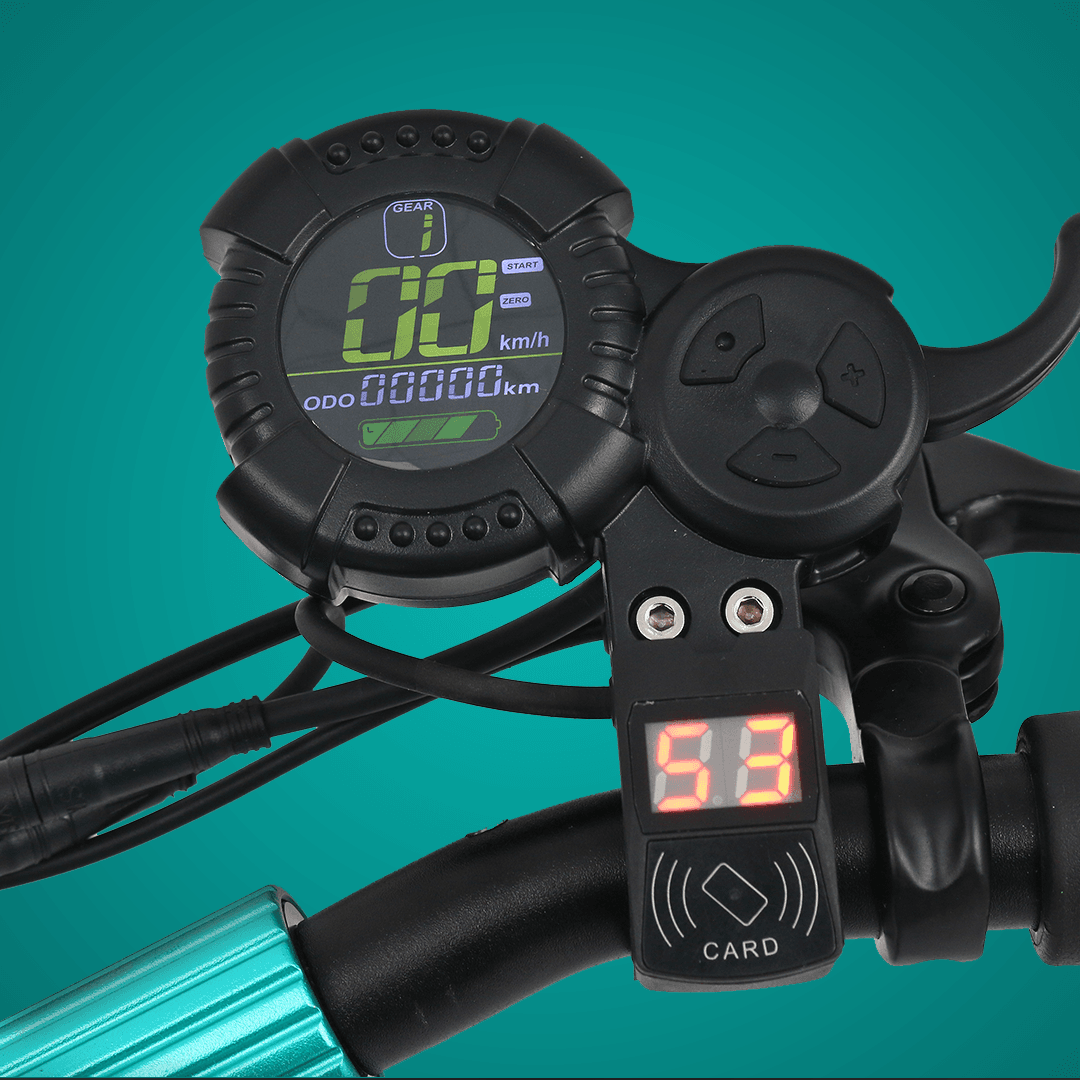 Innovative anti-theft system
The scooter possesses a futuristic built-in anti-theft system. Use a unique NFC verification token to unlock the scooter and be on your way!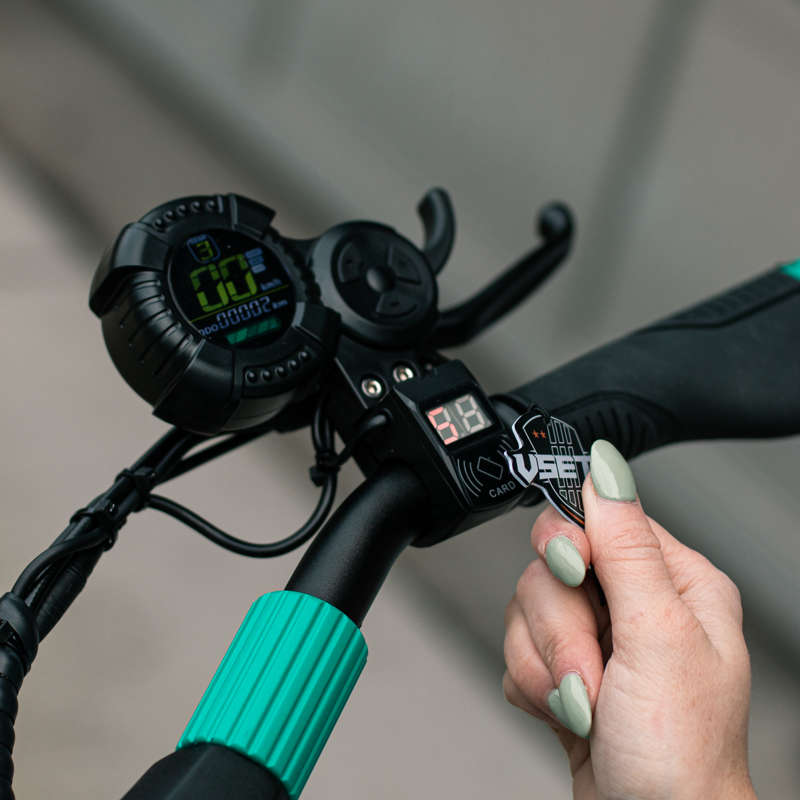 Record-breaking folding speed
Secure and thought-out folding mechanism lets you feel safe while riding and ensures that the scooter can still be folded to take up less space when it has to be carried around.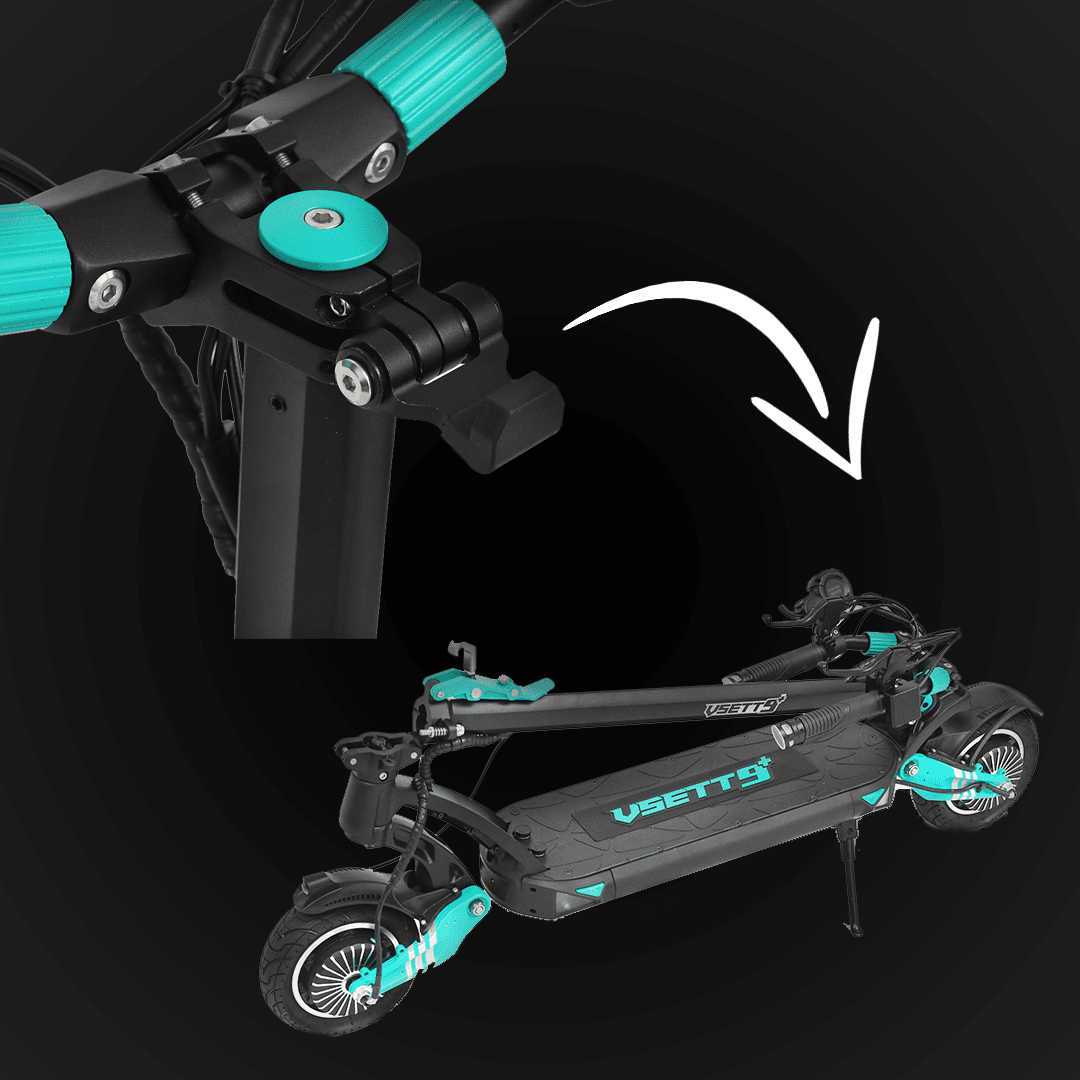 Frequently Asked Questions About VSETT 9+ Electric Scooter:
Do I need a driving license to drive a VSETT 9+ electric scooter?
If you ride your scooter on private grounds, you do not need a driving license. However, you must limit the speed to 25 km/h or 15 mph to comply with the law.
How long does it take me to charge the VSETT 9+?
The VSETT 9+ charges fully in about 10-12 hrs. However, do not charge when the battery level is above 90 percent. When you have to store the e-scooter for some time, charge the battery at least once in about three months so that the battery does not drain completely.
What tyre pressure does the VSETT 9+ require?
Due to the innovative and modern design of the tyres, the set pressure that the wheels need to be at is 45 – 50 psi. Make sure that every time before starting to ride your escooter each of the two tyres is within this required pressure, otherwise there is an increased risk of accident
How is the range of the VSETT 9+ scooter calculated?
We tested the escooter in a controlled environment, using a load of 65 -70 kg and a rider that is 1.75 m tall. The scooter moved at 12 – 15 mph constant speed or ECO mode. The temperature was 20 – 25 degrees Celsius, with wind speed below 15 km/h (9 mph) and a surface with no incline.
How do I maintain my VSETT 9+ scooter?
Read the user manual and user guide to learn the best way to handle and maintain your scooter.
Check the tire pressure before riding that it is between 45 – 50 psi.
Do regular checks on the scooter, just like a car, for each 300 to 600 miles driven. If you can't handle the checkup, use a professional.
How can I conserve my battery during my rides?
Engage only one of the two motors and ride at a constant speed.
Is riding a VSETT 9+ electric scooter safe?
Riding a VSETT 9+ scooter is completely safe as long as you take certain precautions.
You should always wear a helmet when riding the VSETT 9+, and it should never be ridden in the rain.
What does the VSETT 9+ electric scooter package include?
Included is an electric scooter, a user manual, a power bank for charging, and a tool for making adjustments.
Other useful information about VSETT 9+ Electric Scooter:
We recommend that you choose the 'Initial e-scooter Check-up' option when making your scooter order. This special service will ensure your scooter is in the best condition when you take it out of the box.