Description
If you have already bought a ZERO electric scooter or if you intend to do this, we recommend you to read these articles, to watch these videos and scan the Frequently Asked Questions (at the bottom of this product description).
OVERVIEW OF ZERO 11x ELECTRIC SCOOTER

Technical Specifications
Product Type
Product Type
For
Adults
Model
ZERO 11x
Foldable
Yes
Motor Power (W)
2 x 1600W
Max Speed (Kmph/mph)
110/70
Range max (Km/mph)
160/100
Seat Type
No Seat
Lights
Two front LED headlights and 4 rear LEDs
Wheels (inch)
11
Brakes
hydraulic
Charging time (min)
1200 – 1320
Angle of gradient (Grades)
45
Voltage (V/Hz)
72V/32Ah
Special features
Hydraulic suspensions
General Specifications
Max Load (Kg)
200
Weight (Kg)
60
Colour
Red/ Blue
The ZERO 11X offers performance that is unobtainable from any of its competitors.
Featuring 2 x 1600W motors as well as a long-lasting 72V battery, this electric scooter has eye-watering power.
Not only does the ZERO 11X offer the best performance metrics you can find, but it also boasts some of more luxurious features that you wouldn't expect to find on a performance scooter akin to this.
The ZERO 11X has a USB phone charging port, as well as even having an autopilot feature. The ZERO 11X truly is on the fore-front of innovation, bringing the future to the present.
The list of impressive features the ZERO 11X has is truly endless; durable 11" tires, front and rear spring suspension that allows the ZERO 11X to handle any terrain, and responsive hydraulic brakes, just to name a few.
Highlighted Features of Zero 11x Electric Scooter
Powerful 2 x 1600W Motors
Long-lasting 72 V battery
Mind-boggling 160 km / 100 mi range
Weight of electric scooter is 53 KG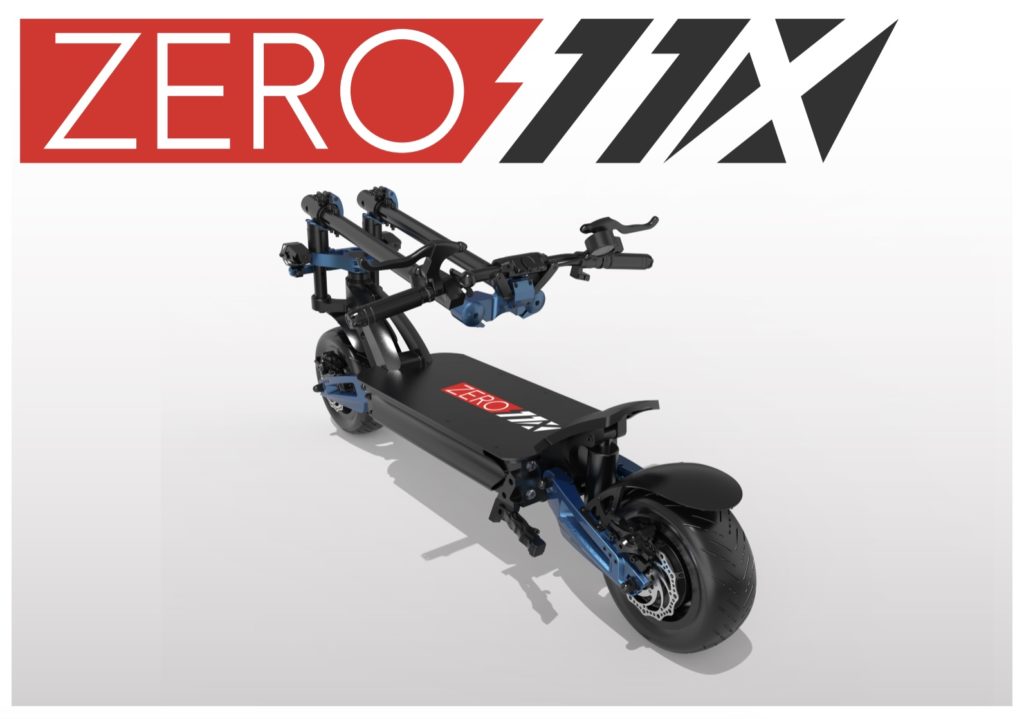 Two front LED headlights and 4 rear LEDs
20-22 hours charging time
2 x 45 A controllers
USB phone charging port
Autopilot
Able to traverse on ascent slopes upwards of 45 degrees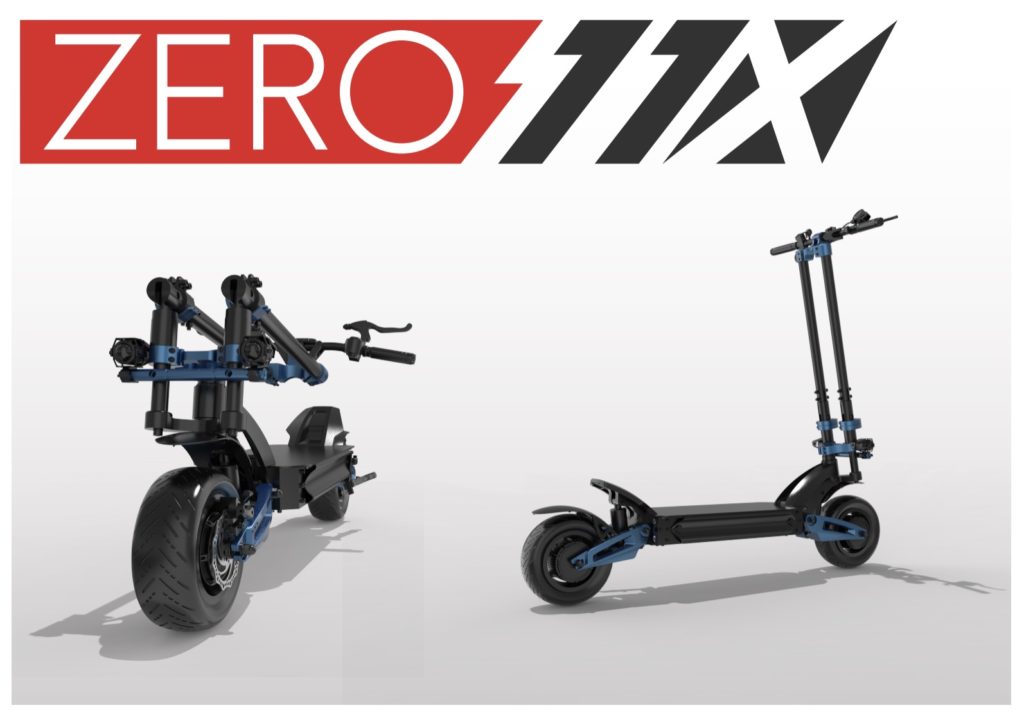 Tires: 11 inch, front and rear tires
Hydraulic dual brakes
The 110 kmph or 70 mi maximum speed can be limited to 25 kmph or 15.5 mph.
Dual spring suspension
Frequently Asked Questions about Zero 11x Escooter:
How long does it take to charge the battery of a ZERO 11X scooter?
You can expect the battery to be fully charged just over 20 hours
To make sure the electric scooter will work optimally, it is recommended to charge the battery when it discharges to at least 10% as well as charging it in the case that it is not used for 3 months or more in order to allow the ZERO 11X to perform optimally.
Do I need a driving license to drive a ZERO 11X?
No license is required to drive the ZERO 11X scooter on any private grounds.
However, driving an electric scooter on a public path or road is illegal and should be avoided entirely.  Read more about Electric Scooter UK Law.
What tyre pressure does the ZERO 11X require?
Due to the innovative and modern design of the tyres, the wheels need to be at around 50 psi, depending on the weight of the rider and the quality of the terrain on which you ride. Make sure that every time before starting to ride your escooter each of the two tyres is within this required pressure, otherwise there is an increased risk of accident.
What's included in the package with Zero Escooter?
Inside of every package containing a ZERO 11X scooter is the electric scooter itself, an electric scooter power bank, a user manual, and a tool with hexagonal heads for making adjustments to your scooter.
Is riding a ZERO 11X electric scooter safe?
Riding a ZERO 11X scooter is completely safe as long as you take certain precautions.
You should always wear a helmet when riding the ZERO 11X, and it should never be ridden in the rain.
Other useful information about Zero 11x Escooter:
We recommend you read the user manual and the user guide, for the exact electric scooter model you need. You can find very useful information about the use and maintenance of your recently purchased electric scooters.
When ordering an electric scooter, we recommend you also choose the "Initial escooter check-up", a special service that will ensure a product ready-to-go from the moment it is taken out of the box.