Description
If you have already bought a ZERO electric scooter or if you intend to do this, we recommend you to read these articles, to watch these videos and scan the Frequently Asked Questions (at the bottom of this product description).
ZERO 10X is a high-performance electric scooter with dual engines and double suspension, which offers off-road performance in urban areas.
OVERVIEW of Zero 10x Electric Scooter Models

Type

Model

ZER-10X-18A-52V

ZER-10X-23A-52V

ZER-10X-21A-60V

Battery

SCT

LG

SAMSUNG

Technical Specifications

Product Type

Electric Scooter

Electric Scooter

Electric Scooter

For

Adults

Adults

Adults

Model

ZERO 10x

ZERO 10x

ZERO 10x

Foldable

Yes

Yes

Yes

Motor Power (W)

2 x 1000

2 x 1000

2 x 1200

Max Speed (Kmph/mph)

65/40

65/40

65/40

Range max (Km/mi)

65-85/40-53

80-110/50-68

60-80/37-50

Seat Type

No Seat

No Seat

No Seat

Lights

Yes

Yes

Yes

Wheels (inch)

10

10

10

Brakes

disk brakes

– 140 mm

disk brakes

– 140 mm

disk brakes

– 140 mm

Charging time (min)

540

540

540

Angle of gradient (Grades)

30

30

30

Voltage (V/Hz)

52V/18Ah

52V/23Ah

60V/21Ah

General Specifications

Max Load (Kg)

150

150

150

Weight (Kg)

35

35

35

Dimensions (mm)

1300 x 680

x 1260

1300 x 680

x 1260

1300 x 680

x 1260

Colour

Black

Black

Black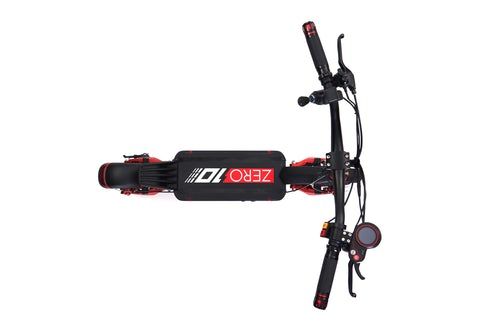 ZERO 10X Electric Scooter
The ZERO 10X is a mixture of high-end performance and comfort.
The extremely powerful dual 1000W motor each paired with the luxurious features the ZERO 10X offers such as the 10″ pneumatic tyres and dual braking system not only make for an incredibly optimised machine, but also offers supreme comfort that makes riding this electric scooter a joy.
Boasting an impressive range of up to 80-110 km / 50-68 mi, the ZERO 10X would be perfect for taking on lengthy adventures and long commutes.
Although, the ZERO 10X is much more than just a high performing and comfortable commuter. Due to the 3 LED headlights and 2 tail lights as well as the pneumatic wheels and robust suspension system, the ZERO 10X is set to undertake any adventure. Day or night, pavement or off-road, with the 10X, you'll be set for anything.
Compared to other scooters that could be considered "competition" for the 10X, the ZERO 10X offers much better performance metrics as well as increased safety due to the extra traction provided by the ultra-grippy 10" pneumatic tyres.
Dual suspension with double engine ZERO 10X
The Z10X high performance surpasses all other scooters in the range, making the ZERO 10X an excellent alternative.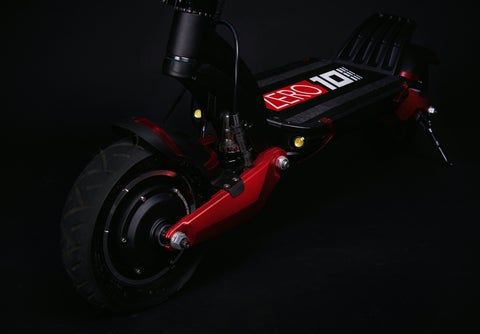 Motor ZERO 10X dual
If you are looking for a thrill, the Zero 10X dual may be the right choice for you. This electric scooter features two 1000W engines, giving truly outrageous speed and performance.
Say goodbye to anyone who has a different model of an electric scooter as you pass them in the blink of an eye. The ZERO 10X dual offers the best performance available when compared to any other electric scooter.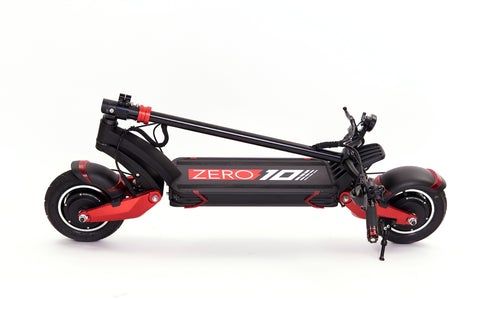 Foldable ZERO 10X
The foldable ZERO 10X is an alternate option for those who like to travel or have a limited amount of space.
With the foldable Z 10X, there is no sacrifice in performance or sturdiness, which is a problem that many other foldable electric scooters face.
You don't have to make sacrifices to get a foldable electric scooter; the foldable 10X is just as sturdy and robust as any of its unfoldable counterparts.
Take this scooter travelling with you and ride in the most challenging off-road locations. The foldable ZERO 10X will be more than up for the task.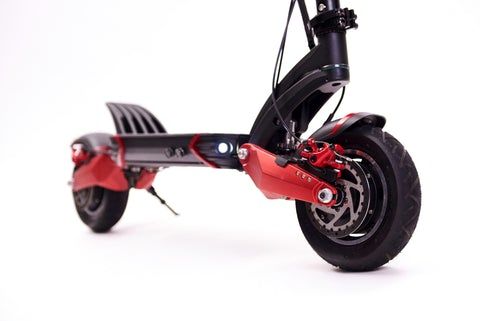 ZERO 10X Electric Scooter complete profile
Aside from the innovative performance and speeds that the ZERO 10X offers, it also has a significant presence and provides maximum comfort – you could ride this scooter for hours without any discomfort.
This scooter features two suspension arms that connect the frame to the wheels that incorporate two hydraulic shock absorbers to provide the most comfortable riding experience possible.
Its striking and distinguished appearance comes from its overall robust looks, as well as the hub motors attached in both wheels, which almost none of our competition's electric scooters feature.
In addition to all the fantastic qualities listed above, there is also a selection of different modes available to be used when riding this scooter.
There is an option to use one engine, both engines, ECO mode, and TURBO mode. Eco mode focuses on increasing the battery time and range of the ZERO 10X, while the TURBO mode puts an emphasis on maximising performance as much as possible.
Frequently Asked Questions About Zero 10x Electric Scooter:
Do I need a driving license to drive a ZERO 10X electric scooter?
No license is required to drive the ZERO 10X scooter on any private grounds.
However, driving an electric scooter on a public path or road is illegal and should be avoided entirely.
How long does it take to charge the battery of a ZERO 10X escooter?
You can expect the battery to be fully charged within just 9 hours.
It's important to note that you should only charge the ZERO 10X after its battery has depleted by at least 10% as well as charging it in the case that it is not used for 3 months or more in order to allow the ZERO 10X to perform optimally.
What tyre pressure does the ZERO 10X escooter require?
Due to the innovative and modern design of the tyres, the set pressure that the wheels need to be at is 45 – 50 psi. Make sure that every time before starting to ride your escooter each of the two tyres is within this required pressure, otherwise there is an increased risk of accident
How is escooter range calculated?
The electric scooter is tested in a closed environment, with a 65-70 kg weight (user's height of 1.75 m), 20-25 kmph or 12-15 mph constant speed or ECO mode, 20-25 degrees outdoor temperature, wind speed below 15 kmph or 9 mph and straight horizontal surface (no slope).
Is riding a ZERO 10X electric scooter safe?
Riding a ZERO 10X scooter is completely safe as long as you take certain precautions.
You should always wear a helmet when riding the ZERO 10X, and it should never be ridden in the rain.
What does the Zero 10x electric scooter package include?
Included is a ZERO electric scooter, a user manual, a power bank, and a tool for making adjustments.
Other useful information about Zero 10x Electric Scooter:
We recommend you read the user manual and the user guide, for the exact electric scooter model you need. You can find very useful information about the use and maintenance of your purchased electric scooters.
When ordering an electric scooter, we recommend you also choose the "Initial escooter check-up", a special service that will ensure a product ready-to-go from the moment it is taken out of the box.
We recommend treating your electric scooter (no matter the model) as a real car; a vehicle that needs periodic check (at each 500 – 1000 km or 300-600 mi, depending on the model) and, if necessary, a technical revision from a specialist.